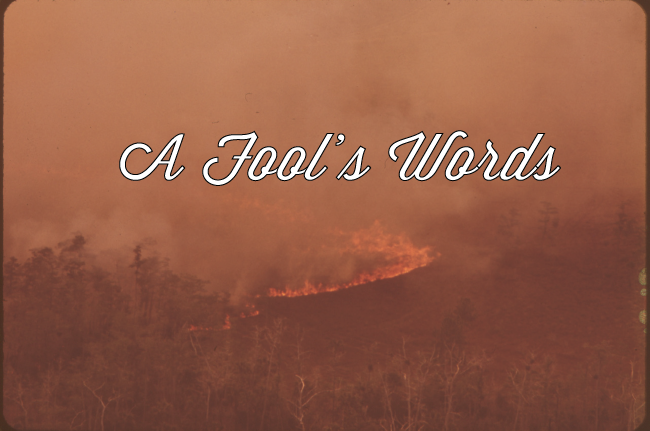 We all wish we had kept our mouth shut from time to time but we don't often assign the word "foolish" to our words. The book of Proverbs has approximately 15 verses with the word "foolish" in them that relate directly to how a fool uses his or her words.
If we don't want to be a fool, then we need to know what a fool is characterized by.
1. A fool uses his or her mouth for self-righteousness. I worked for an employer during my time in college who refused to begin a sentence with the word "I." He felt as though it assigned too much worth to himself. Though I found writing letters on his behalf difficult, I did appreciate that he took intentional steps toward humility.
A fool does not delight in understanding, but only wants to show off his opinions.
-Proverbs 18:2
 2. A fool can argue about anything. And may I add, loudly. A fool doesn't pick a well-crafted argument and hold a logical discussion. Today, we see fools all over social media platforms in particular. Any fool can leave an abrasive comment on a post, but how many hearts are changed via an angry status?
It is honorable for a man to resolve a dispute, but any fool can get himself into a quarrel.
-Proverbs 20:3
3. Even a rich fool is miserable company. On a walk this weekend, I joked with my husband that we should knock on the door at this one house and become their friends simply based on the fact they had a boat stored in their garage and a friendship could lead to an invite out on the boat. But I would rather be poor with my honest, loyal friends as we sit in the living room eating popcorn than spend an evening trapped on a yacht with a rich person who is a fool. Spending time around foolish people wears me out; no amount of money could cause me to constantly spend time with them.
Better a poor man who lives with integrity than someone who has deceitful lips and is a fool.
-Proverbs 19:1
It's easy to read through these three characteristics of a fool's words and think of other people in your life that fit them perfectly. But it's harder to reflect on our own mouth and unveil our own foolish tendencies. A characteristic of a wise person is to approach a list like this and apply it to themselves. Let's commit ourselves for the weekend to pay attention to our mouths and come back together for the next blog with the counter-characteristic of a Wise Person's Words.