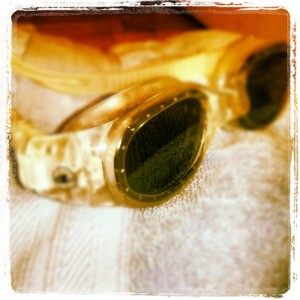 Goggles from Walmart. Check.
One-piece swimsuit from Marshall's. Check.
Two weeks ago I began my career as an Olympic swimmer. Forget the fact that I haven't swum laps since I was eight and taking swimming lessons. And the fact that I barely passed the "Goldfish" class even then.
I jumped feet first into the shallow end and shuttered as my swimsuit absorbed the cool water. I pushed my goggles against my eyes and tested their suction to my face.
Gold medal time. I pushed off the wall and let my arms go into auto pilot with the freestyle stroke. As my feet propelled me through the water, I was feeling confident. My feet kicked a rhythmic splutter behind me while my arms counted left, right, left, breathe; left, right, left, breathe.
Suddenly, my left foot cramped, pulling my foot at an unnatural angle. The rhythm fell apart. I couldn't straighten my foot, couldn't kick, couldn't get my arms under me enough to tread water. Sputtering chlorine-filled water from my mouth, I doggy paddled myself to the edge while the seventy-year old man in the next lane swam smoothly along. Fail.
Life lesson: swimming is awesome. Drowning is awful.
When we talk about our walk with God, we use the phrase that we are drowning in our sin. I remember the pain of basing my self worth on good grades, only to realize that no one liked me any better with A's than with C's. I even remember the helplessness of trying to get out of big problems by my own power. There are some situations in life that are too big for us to handle by ourselves.
I recently reread the story of Jesus with the woman at the well in the gospel of John. The conclusion of the story occurs in John 4:39-42. Without the woman admitting it, Jesus knew that she had five husbands and that she was currently living with a man who was not her husband. She was drowning in her sin. Yet she came to believe that this man, Jesus, was the Messiah.
She could have kept it all to herself. But she didn't. Rather, she testified to the Samaritans that this man, Jesus, had told her everything she had done. What was the result of this confession?
Verse 39 says many believed based on her testimony. After that, Jesus Himself went to those people. Verse 41 says that many more believed. They came to understand and accept Jesus as the Messiah! Did Jesus act in their lives? Absolutely! But this woman's testimony sparked people's interest. They were perhaps even more willing to listen to what Jesus said because they had heard her tell her own story.
I'm wondering; how many times have I told my swimming story? But who is in my life that may need to hear my testimony about how God has rescued me?