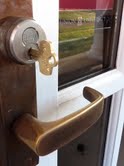 Today, I turned in my key to Union University as well as to Shelter Insurance. The days following my two weeks notice have been filled with joyous celebrations as well as scattered tears for the relationships I must leave behind. But in the words of my wise husband, "Every new beginning comes from some other beginning's end." (Sometimes I forget he loves 90's music because apparently this is a quote from a Semisonic song).
As I did my best to prep my emotional stamina last night, I was reminded of Paul's words about running a race in such a way that you may win (1 Corinthians 9:24).
My finish line is not at Union right now. It was just a stop along to race route. In fact, my two part-time jobs were not really the race at all. My obedience in walking with Christ is the good race.
When Christ calls us to end a beginning, it's so that He can start a new beginning in us. And during the transition, we have the opportunity to cling to Christ and trust that He will work all things together for our good and for His glory.