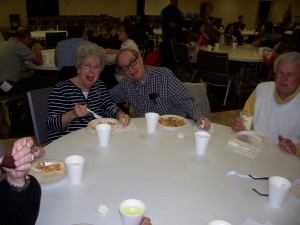 Mr. and Mrs. Ira Simmons enjoying dinner with the youth group.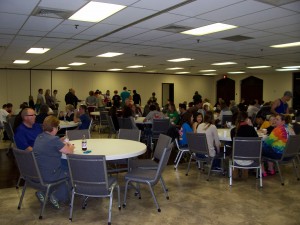 Seventy youth and parents joined us for dinner.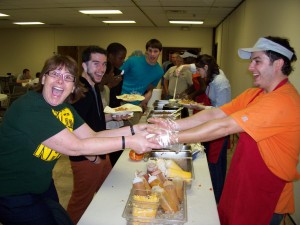 Some of our leaders excitingly receiving their burrito from Sean Montes, owner of The Burrito Meal.
"There is a difference between believing that Jesus is the Son of God and having a relationship with Him." Toby Robinson, youth minister of First Baptist Church, West Frankfort, Illinois, encouraged the youth group to examine God's love for us tonight during the first session of our DNOW weekend.
He extended the metaphor of our theme, "Rooted," by discussing trees. He said that a tree is as tall as its roots are deep. God uses nature to teach us about Himself. Likewise, we can only grow in our relationship with Christ if our roots are firmly planted in the truth of His love.
He posed the question, "How can we say the Bible is true if we've never read the whole thing?"
As I type, the youth have gathered into small groups in several church members' houses across town. Pray for them as they discuss and reflect on the truth that God is love.
Pray for Toby as he prepares to present God's word twice tomorrow. And for David Curtis, lead singer of Run Kid Run, as he continues to lead us in worship.