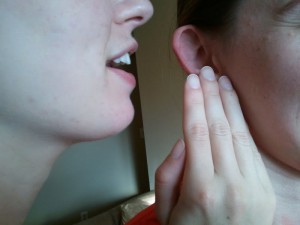 "My friend Jane, bless her heart, wears boy shorts; she refuses to wear dresses or skirts."
How is it that sentences like the one above get shared during prayer request time? Galations chapter six tells us to "carry one another's burdens."  We've all got a lot of stuff happening in our lives. We have situations where we need wisdom and guidance as well as moments of praising God for working in our lives. And yet, it's a constant battle to keep prayer request time free from gossip.
Actually, it's a war to keep our everyday chit-chat free from gossip.
The tongue is a restless evil, full of deadly poison. With it we bless our Lord and Father, and with it we curse men who are made in God's likeness. Out of the same mouth come blessing and cursing. My brothers, these things should not be this way. – James 3:7-10
Since the line between truth and gossip can be tricky to navigate, here are three questions to decide whether or not to share that piece of information you just learned.
Is it true? The answer to this question is usually yes. After all, the juiciest gossip is always at least based on truth. Just because something is true, does not mean it is right, or in this case, righteous.
Is it kind? This question is harder to answer. Maybe ask yourself, would I say this to her face? Or How will other people knowing this information affect the person it is about? We have all messed up, but not everything needs to be public knowledge.
Is it necessary? Our words should not be background noise that go on and on without anyone paying attention to them. Rather, we strive to add valuable insight to conversations without attacking or insulting other people.
If you can honestly answer "yes" to all three questions, then most likely you are safe to share your story. However, if you answered no to even just one question, then you should keep it to yourself. Above all, ask the Holy Spirit to convict you before you even open your mouth.