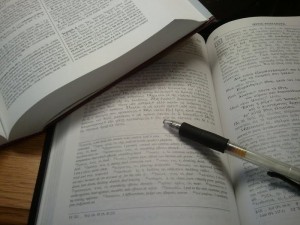 For the past two weeks, I have been studying Ezra 7:9b-10. It's a beautiful description of Ezra's character and commitment to God. It's also a great challenge to us as believers.
"…the gracious hand of his God was on him, because Ezra had determined in his heart to study the law of the LORD, obey it, and teach its statutes and ordinances in Israel."
1. It's a matter of the head. It's difficult (if not impossible) to explain a topic that you have never studied. For example, I am a pro at explaning how to make a pb&j. After all, I eat one almost every day for lunch. However, it would be impossible for me to explain how to tile a floor; I've never done it. To live the Gospel, we must know the Gospel. We must study it for ourselves. We cannot depend on the teaching of others around us. It's a personal study.
2. It's a matter of the heart. Once the Gospel has taken firm root in your head, it cannot stay there. This can be called obedience-it's not just knowing right from wrong, it's choosing the right because it's right and fleeing from wrong because it's wrong.
3. It's a matter of the hands. The truth of God's love for us ought to break our hearts and stir us to action. Knowing that God loved me so much that he sacrificed himself for me creates the passion to share this love with the people I come into contact with.
All three of these aspects of belief play into each other. It starts with personal Bible study. This is when you have the opportunity to sit alone with God and read His word to us. Lord, thank you for giving us your Word. Help us to become more diligent students of it.