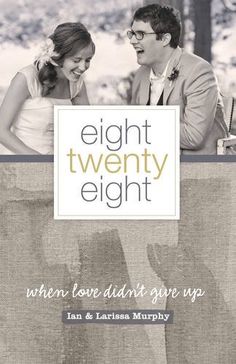 Our love could never be as perfect as His, of course, but as children of God we were able to receive love vertically from Him that we could learn how to extend to each other.
Ian and Larissa Murphy were not that different from my husband and me in college. They were young and in love with both God and each other. They were planning their future together when a car accident caused a severe brain injury to Ian. As Ian lie in the hospital bed, suddenly Larissa's planning changed from their future marriage to the possible funeral of Ian.
God chose to bring Ian out of his coma. His family and Larissa orchestrated their lives around caring for him. In the book Eight Twenty Eight, Larissa shares the struggles they faced.
I highly recommend this book, especially for married couples. Larissa does not shy away from sharing the hard questions she wrestled with during Ian's slow recovery. And yet, she keeps a consistent tone of her faith throughout the book.
For me, the most compelling admission from her was, "I didn't know I'd start to worry that I might have made [Ian's] healing an idol in my heart, wanting Ian more than I wanted God."
Ian's accident caused his family to lean on God in a way they never had experienced before. Even Ian, in a condition where he can no longer control his body as he once could, gained a deeper relationship with God as evidenced in this exchange with Larissa one day:
"Ian, what's the first thing you'd do if God totally healed you?" … I was thinking about all the ways I would answer that question if I were asked, and I could see in my mind things like jumping in the pool, sweeping Lydia and I into dance, running to his mom's house. Ian, however, while I was thinking of these "doings," was on a difference surface. "Thank Him."
Eight Twenty Eight is a powerful story of the love between two people. But the story does not stop there – it's the story of the love that God has for His children. You can purchase yours here.