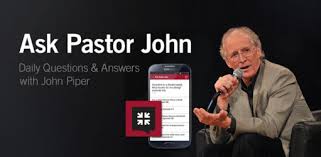 My college pastor introduced me to the works of John Piper with the book Don't Waste Your Life. Years later, as Kevin and I began our premarriage counseling, that same pastor asked us to read This Momentary Marriage by Pastor John Piper. His writings have influenced the way I view the Bible and our Heavenly Father.
So when I saw that Desiring God had created a podcast called Ask Pastor John, I subscribed. And the setup matched exactly what I expected – people across the county, from all ages and walks of life, wrote to Pastor John to ask earnest and often difficult questions regarding faith and their walk with God.
Here are just a few of the questions that Pastor John has answered in the past month:
How do I honor God in chronic pain?
Do pets go to heaven?
Is permanent birth control a sin?
Does God want me to be happy or holy?