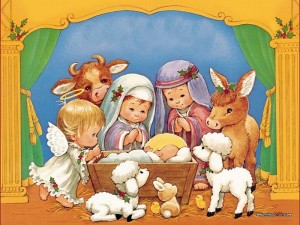 As I spent the majority of the last two days with my 8 week old nephew in my lap, I couldn't help but wonder how Mary felt caring for the Christ child. Radio, magazines, and sermons bombard me with images of Jesus in a manger at this time of year. But no matter how frequently I see a nativity, I cannot rid my mind of the cross. The stillness of our wooden nativity scene is overshadowed by the soon-coming death on the cross.
As much as I love the telling of the Christmas  narrative in Luke, I gravitate toward the passages entailing the arrest and sacrificial death some thirty years later.
I don't find myself humming, "Happy Birthday, Jesus" on Christmas Day but rather "see from His head, His hands, His feet / sorrow and blood flow mingled down."
Christ's coming to earth sparks the celebrations at this time of year. But He's more than a glowing baby lying next to donkeys. He is the God-Man – the ultimate sacrifice. He is the sacrificial lamb born to die for you and me. At this time of year, I remind myself of this not by reading the Christmas narrative but by reading the Passion week, those chapters in our Bible that tell the last moments of His life, not the first. Why? Because I need a reminder that Christ wasn't born so that I could have candy canes in my stocking or even get my family together. Christ was born to die so that I could be right in my relationship with God.
So as the hustle and bustle of Christmas Day is behind us, take 3 minutes to listen to "I Celebrate The Day" by Relient K.
And I, I celebrate the day
that you were born to die
so I could one day pray for You to save my life.