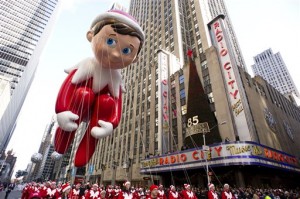 Have you adopted an elf this Christmas? Do your children wake up each morning on a new hide-and-seek adventure with them? If so, be warned – the elf on your shelf may not be a Christian.
This statement may curl your elf slippers and cause your stocking cap to stand straight up. Not every elf believes in God.
In case you're completely out of the trendy Christmas loop, Elf on the Shelf is a rather recent product…excuse me…tradition. You can "adopt" an elf at stores such as Target. For thirty bucks you get an elf, book, keepsake box, and access to Santa's special online activities. The Elf magically appears around December 1st in your home. His or her job is to keep a close eye on your children and report back to Santa every night in order to more accurately update the "Naughty and Nice" list.
Just exactly how popular have these elves become?
They had an elf balloon at this year's Macy's Day Parade.
The company has partnered with "adoption" centers in Canada, the U.K., and Australia.
Over 2.5 million copies have sold in North America.
A movie, "An Elf's Story" was adapted from the book.
In 2010, the three founders were named the Georgia Small Business Person of the Year by the Small Business Administration.
Before we  examine your elf's theology, let's take a quick glimpse at the creation of Elf on the Shelf.
The team: mom, Carol Aebersold and her twin daughters Chanda Bell and Christa Pitts. The concept is based on Carol's tradition as a child that she passed on to her daughters. Carol was going through a hard time and her daughter encouraged her to write. They were rejected by all publishing companies so they self-published at first. Their one product sky rocketed and was developed into seventeen products, including a movie. In fact, in 2011, in association with Big Canoe Entertainment, Pitts and her family donated 100% of the net proceeds from the world premiere of "An Elf's Story" to Atlanta's premiere healthcare provider for kids – Children's Healthcare of Atlanta.
In their own words, "We take Christmas magic very seriously." The following is an excerpt from their website, www.elfontheshelf.com:
FAQ: What should I do if my elf is touched by mistake? – Christmas magic is very fragile, and if a scout elf is touched it may lose its magic. If your elf has been touched, please sprinkle a little cinnamon beside him or her before you go to bed; cinnamon is like vitamins for elves, and it helps them get back to the North Pole. Once they arrive, the North Pole E.R. doctors will check them out.
So, the question you've kept reading for: Is the Elf on Your Shelf a Christian? Read through these four points to determine your elf's view of Christianity and how that impacts your family.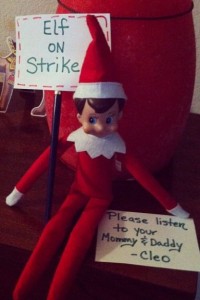 1. Elves should foster imagination, not discipline.
Do not overemphasize the watchful eyes of the elf to the point that you ignore the reality of the Holy Spirit. Make certain your children clearly understand the difference between believing in a living God and make-believing a wintry wonderland.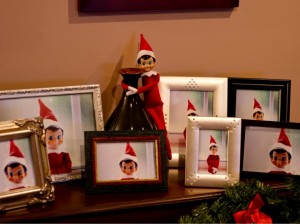 2. Do not let your elf become your family's idol.
The reason we as Christians celebrate at this time of year is to thank God for sending us His Son to earth so that through His sinless life, sacrificial death, and triumphant rising our relationship with our Maker is reconciled.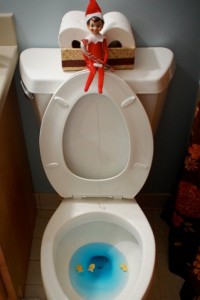 3. Let the elf bond your family together.
Traditions bring us together as a family. Some of my favorite Christmas memories as a child involve mom and I baking the same cookies each year. And the trail of candy canes that led you from your bedroom, past the styrafoam Santa, directly to the gifts on Christmas morning. As hard as it might be for kids to find the elf one morning, it's even harder for parents to continue to create fun, new ideas. I may not believe in "Christmas magic," but I do believe in the importance of traditions that create a buzz of excitement for every family member, both young and old. So have some fun with your spouse as you plot new hiding spots together. Encourage your children to work as a team as they search for the elf.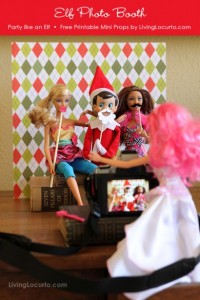 4. As a parent, you control how your children view the elf on your shelf.
Always be mindful of the maturity level of your children. If you don't feel confident that they can view your elf as a whimsical tradition, then don't adopt an elf. There's nothing inherently anti-Christian about the elf you choose to bring into your house. After all, the elf takes after the personalities and creativity of the parents.