November 27, 2013 in Uncategorized by Renae
I was accused of acting like a kindergarten teacher last week. But you know what? If making pine cone turkeys is wrong, I don't want to be right! Here's my herd on display: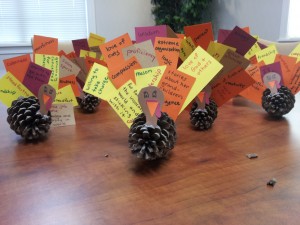 I asked my coworkers to write down a word or a phrase of what they are thankful for in the other coworkers. I wasn't certain if many people would participate, or if they did, that the answer I received would be superficial. But as I transcribed the list onto the turkey "feathers," I was encouraged at what others wrote.
Though I didn't participate in thirty days of thankfulness on Facebook this year, I have given consideration to what I'm thankful for. And I realized something – it takes a while to get past the surface-level of gratitude.
It's easy for me to rattle off a list like this: I'm thankful for …
New house

Healthy newborn nephew
Job
Electricity
But is that what I am really, truly thankful for? Is that really the list that I would write on a pine cone turkey? So this week I have been contemplating the deeper, less tangible blessings from God that I am thankful for.
A house of safety and welcoming that I look forward to returning to every day after work.

Unity in marriage.
Laughter. What an usual blessing that God created in allowing us to laugh.
Encouragement – both that I give and that I receive. I think I would melt into depression otherwise.
Hope. God is at work in people's lives, including mine.
I may have crafted like a kindergarten teacher this month, but I tried not to think like a kindergarten student. We need to list our physical and material blessings and be thankful for them, but it's even better to realize that we have a whole host of spiritual and emotional blessings that affect us everyday that we may not acknowledge.