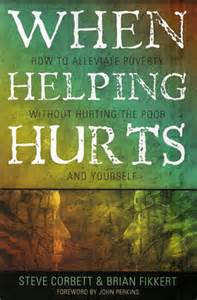 Book Review: When Helping Hurts: How to Alleviate Poverty Without Hurting the Poor … and Yourself by Steve Corbett & Brian Fikkert
My husband, Kevin, has worked with nonprofits in Jackson since 2010. The first nonprofit he worked at had a strong mission to help alleviate poverty. From his experiences, we both grew to believe in the importance of breaking the cycle of poverty in our city.
Since then, we have had several students join our youth group that come from families that need assistance. Poverty isn't just a word in my vocabulary; poverty has a name and a face.
One our my social worker friends told me that the entire staff was required to read and discuss When Helping Hurts at her job. So I decided to get myself a copy and read it, too.
It's not meant as a mere good read but as a thought-provoking book to be used in a group setting. Each chapter begins with initial thoughts to answer, the chapter, and then reflection questions and exercises.