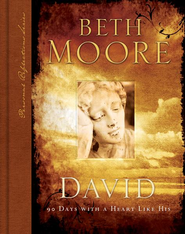 As 2014 came to a close, I needed a Bible study to get me in the word personally. Ever since I attended a Christian-based university, I have believed that a person's quiet time should not be the same passage that they are reading for homework, studying for a paper, or researching for a sermon. I do well with personal goals so I decided to start this study because it had a reading plan, thought, and prayer for every day. I love that.
There is a video that goes along with the study that I did not watch, so I cannot speak for the video portion.
On a physical, non-spiritual note, this book is HUGE! It's 437 pages long and a beast to haul around with you. So this book took a permanent home in my car and I read and reflected on Scripture every day on my lunch break. I don't know about you, but by 12:30, I need more Scripture in my life to make it through the afternoon with a Christ-like attitude.