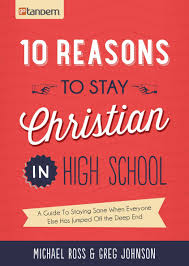 My husband and I don't disagree on much, but on this one particular point, we are polar opposites – I'm so glad I'm not in high school anymore. He, on the other hand, loved every second and doesn't understand why other people don't want to go back. Then again, he loved middle school, too.
For me, high school was hard. I had transitioned into more challenging classes, many of which came with college credit. I loved my clubs and extra curricular activities, but I was also ready to move on to the next stage of life. So much so, that it was easy to forget that I was supposed to be a representative for Christ in my daily life.
So when I saw this newly released book, 10 Reasons to Stay Christian in High School: A Guide to Staying Sane When Everyone Else has Jumped off the Deep End by Michael Ross & Greg Johnson, I wanted to know what they had to say.